It's Mental Health Awareness Week and although I have talked about MS and depression before, it feels right to talk about it again this week. We also know I like to set the record straight on how soap operas deal with MS, and the current storyline in EastEnders is no exception (I'll come back to this in a bit).
It's not unusual to experience some kind of impact on your mental health when diagnosed with MS. There are a variety of reasons that it might happen as well, which can sometimes be difficult to get your head around. It's a bit chicken and egg. "Am I feeling down because I've got MS, or is MS making me feel down." Let me explain.
You can categorise the reasons for MS related mental health problems. They are either directly or indirectly related to MS.
Directly related symptoms include nerve damage which means the wrong emotional signals are going to your brain. This means that you could feel sad for absolutely no reason whatsoever. It also includes the psychological reaction to MS. You might feel grief, anger, resentment and uncertainty to name just a few things. Not related directly to MS include factors such as your personality type. That is to say that certain emotional reactions are just who you are. You may also have had depression regardless of MS. The same goes for stress and anxiety. Lastly, you might experience mental health problems as a side-effect of medication.
Roughly 50% of people with MS suffer from depression at some point, but as you can see, the reason behind it can vary greatly. That means that treating it can too. We all need something different. For some people, that's talking-therapies or medication. For others that's taking some time out, doing something that sparks you joy.
There's another symptom of MS called "emotional lability" or "emotionalism," which is something that I have. If you have either of these things, you'll find that you have disproportionate or irrational emotional reactions to situations. Something really small might happen that you display excessive amounts of frustration or anger towards. You might laugh inappropriately. Sometimes I cry with laughter then switch to sobbing my heart out. I feel overcome with sadness and I have no idea why.
Prior to being diagnosed with MS, I considered myself to have fairly sound mental health. Sure, I had times when I got stressed and I had periods where I felt down, but for the most part I'd describe myself as a cheerful soul. I rarely felt life get on top of me. I never experienced the "black cloud" over my head.
The first experience I had of "not being ok" was during the period of awaiting diagnosis. The waiting game was horrible. I felt constantly sick. That knot in my stomach. When were they going to tell me what was wrong with me? I felt forgotten. Abandoned. Lost in the system. Much as I feared the inevitable outcome, I wanted to be put out of the torturous game of waiting. Every time my phone rang I wondered if it would be the hospital confirming my fate. I was OBSESSED with the arrival of the postman for the arrival of letters from hospital, with some hint of answers.
And then I got my answers. I won't lie, I experienced relief. And then I just powered on through. Like nothing had changed, when the reality was, it's probably the most significant thing that has ever happened to me. I maintained a façade of coping. Feeling ok with it. And deep down I really wasn't. Everyone kept telling me I was being strong. And in my head, strong equated to still smiling and laughing. Being ok. Continuing to breeze through life. So that's what I did.
I went through chemotherapy in June 2018 to hopefully halt (or at least dramatically slow down) the progression of my MS. I took six weeks off work to recover and towards the end of that, I experienced my first brush with anxiety. The thought of going back to work made me feel terrified. I didn't know how I was going to react. I didn't know how others were going to react to me. I was genuinely scared. This was when I first started receiving Reiki, and to say it helped is an understatement.
Somewhere along the line it all got a bit too much and I finally allowed myself to feel everything that I had been bottling up. I cried and cried. I felt grief and mourned for the good health that I previously had. I felt the guilt of being a burden to work and colleagues, my friends, family and more than anybody, Dave. This wasn't the life he signed up for. I felt scared for the future. I was in pain and I was furious with the injustice of me of all people having this condition. I envied people that got ill, but made a full recovery. I shut myself off, didn't feel like going out and spent a lot of time either sleeping or just sat, staring into space. I lost my get-up and go. It felt dark. I was still functioning but I felt numb. I was doing nothing more than going through the motions.
One day, I had an appointment with one of the MS Nurses, and had a real download of how I was feeling. She's not a counsellor so she couldn't help in that respect but she did come up with a magic pill. She told me it would help to ease the physical pain I was in, but would also help to lift my spirits a bit. And it really has. I know when I've not taken it, that's for sure.
Now, I feel that I'm out the other side of that dark time. I still have the odd day where the realisation of the condition that I have hits me like a ton of bricks and I feel like crap. But it's becoming more and more infrequent. I now accept that some days I'm going to be fed up. But I do what I can to find escapism, whether that be in a book, a TV series, hanging out with Poppy or finding something else that sparks happiness in me.
There's one other factor that can affect depression in MS patients that I have deliberately held back as I want to talk about it in relation to EastEnders. And that's that there's other stuff going on in your life unrelated to MS that's causing your mental ill-health. I'm hazy on the details as I don't watch it, so I'm only telling it as I understand it, but in a current storyline, a character with MS takes her own life. The soap describes the storyline as wanting to "explore the impact of MS on mental health."
I think it's great that they're drawing attention to the impact that MS has on your emotional wellbeing. I've already said that at least half of people with MS will experience some form of mental ill-health. So why did I say at the start of this blog that I'm unhappy about it?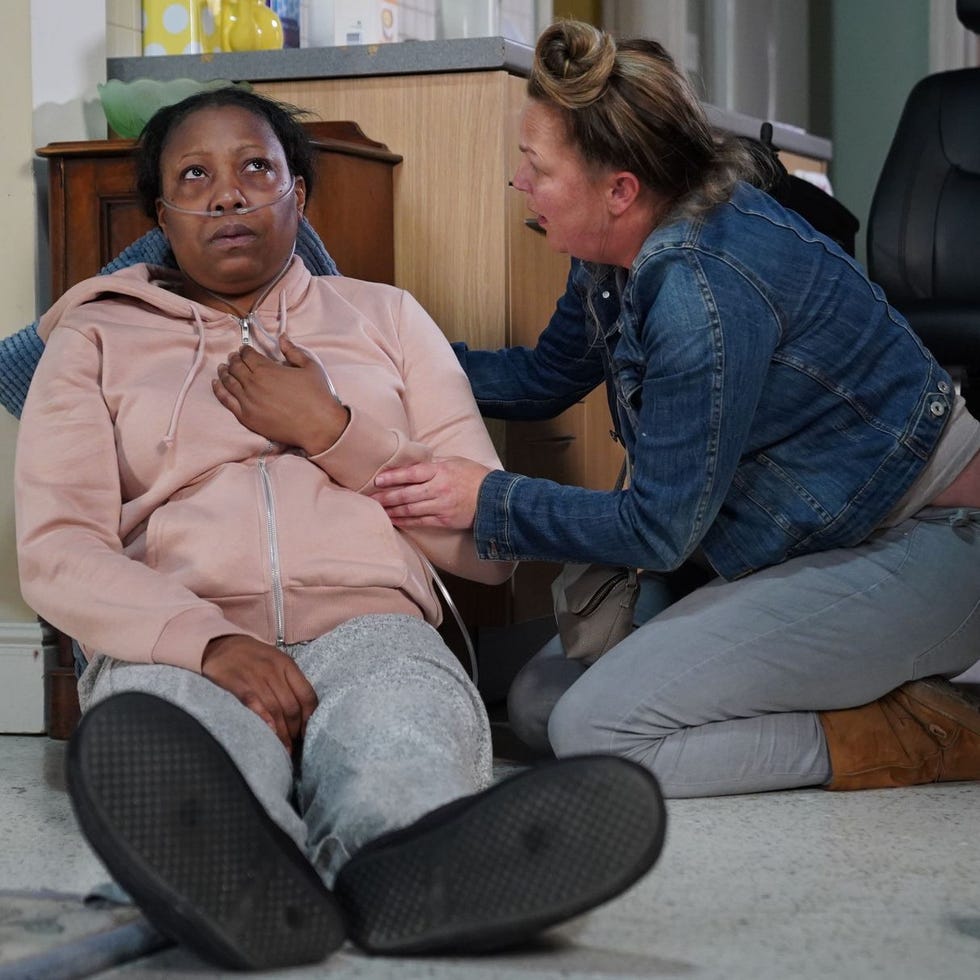 Because it's extreme. Irresponsible even, with 100 people in the UK being diagnosed with MS each week. What kind of message is it sending out about an already misunderstood condition? It's terrifying enough without a suicide storyline happening in the background. If your only knowledge of MS is someone who is impacted by it so badly that they choose to take their own life, it doesn't bode well. You don't know at that point that very few people with MS are permanently confined to a wheelchair. Having said that, even with that knowledge it doesn't mean that we don't fear that we might just be one of the unlucky ones. So please don't scare the living shit out of us unnecessarily.
The thing is, this character has a lot of other stuff going on outside of their MS, as well as their MS being a stage that many will be fortunate enough to never reach. I just don't think it's a realistic representation of how MS can affect people mentally. It's the most extreme example of it. I'm not saying it doesn't happen. It's disrespectful to those that do suffer this badly to say it doesn't. All I'm saying is it's not the norm. What scares me is that someone newly diagnosed, that doesn't yet know much about the condition see's it. What scares me is that the message that sticks around from this will be "person with MS kills themselves because of how horrible MS is." And that's not a true reflection on the reality.